Human Resources Management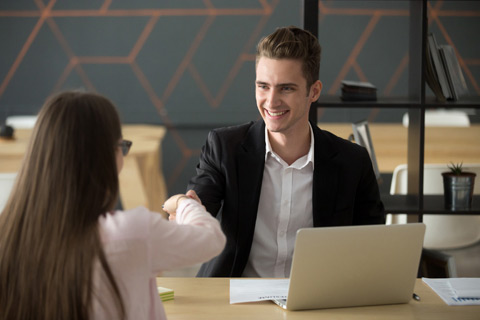 Quick Facts
Human resources (HR) managers and specialists connect an organization's administration and its employees.
Explore on This Page
Job Titles & Career Info
Our Program
Why Choose Human Resources Management?
Complete your degree while balancing your work & family schedules because we offer an all-online option for this program
Work in a high-demand field—all organizations need to attract, motivate & keep skilled employees
Enjoy a variety of work tasks & activities thanks to the broad scope of the HR function within organizations
Prepare for What You Will Do at Work
Oversee the recruitment of new employees & handle staffing issues
Explain HR policies & procedures
Prepare & maintain employment records
Manage benefits
Explore a Professional Organizations
Marketable Skills You Will Learn
Critical thinking
Reasoning
Communication
Personal & social responsibility
Teamwork
Computer literacy
Before You Enroll, Think About:
You must be passionate about working with people.
HR professionals collaborate with a large range of people, including:

Top executives
Employees
Trainers
Recruiters
Lawyers and government representatives

HR professionals must, at times, have difficult conversations with employees about sensitive topics, such as compensation, benefits, employee relations, and discrimination.
You must be able maintain confidentiality.
Need a boost to get ready for college?
Talk to your advisor about Developmental Studies if your TSI scores say you need some help in math or reading and writing.
Degrees & Certificates
Degree
Certificate
Level 1
Level 2
How Much Time & Money to Finish?
2023–2024 Academic Year
| Degree or Certificate | Program Title | Semester Credit Hours | Total Tuition & Fees |
| --- | --- | --- | --- |
| AAS | Human Resources Management | 60 | $4,140 |
| CRT1 | Human Resources Specialist I | 24 | $1,656 |
| CRT2 | Human Resources Specialist II | 42 | $2,898 |
Notes:
Tuition is based on in-state, in-county rates.
Totals do not include textbooks and other materials.
Continuing Education Programs
Time commitments and fees vary depending on the course.
Earn More Choices & More Money
Transfer to a college or university to continue your studies. Earning a bachelor's degree opens the door to career and promotion opportunities.
Next steps
Start on Your Pathway!
Contact
Updated October 30, 2023