Magnetic Resonance Imaging (MRI)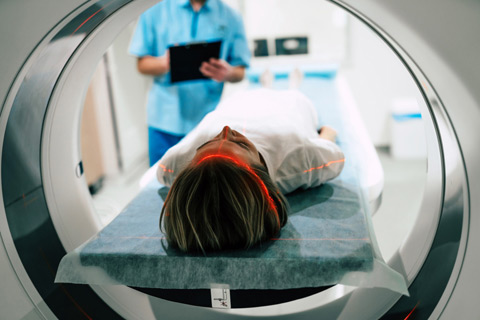 Quick Facts
Magnetic Resonance Imaging (MRI) is a diagnostic imaging specialty within radiology. Specialized MRI equipment uses radio frequencies to create images of cross sections of human anatomy for diagnostic purposes.
Explore on This Page
Job Titles & Career Info
Our Program
Why choose MRI?
Work with medical imaging teams & physicians to diagnose diseases & injuries
Use sophisticated technology skills in healthcare settings
Enter a high-demand field with a bright job outlook
Prepare for what you will do at work
Operate MRI scanners to create quality images for diagnostic purposes
Follow physician orders for the areas of patients' bodies to image & position patients accordingly
Monitor patient safety & comfort
Maintain & check MRI equipment
Explore the professional organization
Marketable skills you will learn
Critical thinking
Reasoning
Communication
Personal & social responsibility
Teamwork
Computer literacy
Before you enroll, think about:
Selective Admission
MRI is a selective admission program.
After being accepted to TCC, you must meet the selective admission requirements to be eligible to submit a separate application to our MRI program.
Get the details on these pages:
Need a boost to get ready for college?
Talk to your advisor about Developmental Studies if your TSI scores say you need some help in math or reading and writing.
Degrees & Certificates
Advanced Technical Certificate
Attend an Information Session
About the Session
Find out everything you need to know about our program: requirements, courses, costs, and more.
Attending an information session is an application requirement. You will submit your Certificate of Attendance with your application.
Until We Can Host In-Person Sessions
Review the presentation slides and contact us if you have any questions: Magnetic Resonance Imaging (MRI) Information Session (PDF)Listen
Questions?
Health Care Professions Advising Resource Hub
Kimberlyn Moore-Debrossard, Career Advisor
Call 817-515-1484
Email TR.HealthCareAdvising@tccd.edu
How Much Time & Money to Finish?
2022–2023 Academic Year
| Degree or Certificate | Program Title | Hours | Total Tuition & Fees |
| --- | --- | --- | --- |
| CAT | Magnetic Resonance Imaging Technology Advanced | 30 | $1,920 |
Notes:
Tuition is based on in-state, in-county rates.
Totals do not include textbooks and other materials.
Non-Credit Programs
Time commitments and fees vary depending on the course.
Earn More Choices & More Money
Transfer to a college or university to continue your studies. Earning a bachelor's degree opens the door to career and promotion opportunities.
Next steps
Start on Your Pathway!
Contact
Trinity River Campus
Kendra Morris, B.S., RT (R)(CT)(MR)
MRI Instructor
Call 817-515-1618
Email kendra.morris@tccd.edu
Trinity River Campus
Health Care Professions
Advising Resource Hub
Kimberlyn Moore-Debrossard
Career Advisor
Call 817-515-1484
Email TR.HealthCareAdvising@tccd.edu
Advising by Appointment
Fall & Spring Hours
Monday–Friday: 8 a.m.–5 p.m.
Summer Hours
Monday–Thursday: 7:30 a.m.–6 p.m.
Updated January 20, 2023