Music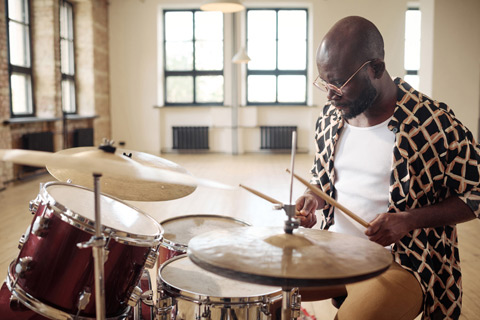 Quick Facts
Music studies include learning to play instruments, singing, performing solo or in groups, reading music, understanding music theory, and writing music
Explore on This Page
Job Titles & Career Info
Our Program
Why Choose Music?
Follow your passion to perform in concerts, recitals or other productions as well as in recording studios
Create new interpretations of music or write your own compositions
Explore different kinds of music, for example: jazz, classical, or opera
Develop your voice & vocal diction
Study music theory & learn to sight read music
Prepare for What You Will Do at Work
Perform music: sing or play an instrument
Practice, practice, practice your skills
Plan or organize rehearsals & performances
Audition for roles or to become part of a musical group
Give music lesson or teach music in schools
Marketable Skills You Will Learn
Critical thinking
Reasoning
Communication
Personal & social responsibility
Teamwork
Computer literacy
Before You Enroll, Think About:
You can gain real life experience by performing in the Campus-hosted concerts we hold throughout the year. Most concerts are free and open to the public.
Rehearsals are often held during regular working hours, but live performances generally take place in the evenings and on weekends.
Dedication, discipline, passion, talent, and physical endurance are important qualities for successful musicians.
Music is a competitive field because many people are interested in becoming musicians or singers.
Need a boost to get ready for college?
Talk to your advisor about Developmental Studies if your TSI scores say you need some help in math or reading and writing.
Degrees & Certificates
Degree
Transfer
All Campuses
How Much Time & Money to Finish?
2023–2024 Academic Year
| Degree or Certificate | Program Title | Semester Credit Hours | Total Tuition & Fees |
| --- | --- | --- | --- |
| AA | Associate of Arts in Music | 60 | $4,140 |
| FOS | Music Field of Study | 31 | $2,139 |
Notes:
Tuition is based on in-state, in-county rates.
Totals do not include textbooks and other materials.
Continuing Education Programs
Time commitments and fees vary depending on the course.
Earn More Choices & More Money
Transfer to a college or university to continue your studies. Earning a bachelor's degree opens the door to promotion opportunities.
While our program is designed to prepare you to pursue your musical interests, you may be ready to work toward an advanced degree—depending on the university.
Next steps
Start on Your Pathway!
Contact
Updated November 20, 2023