Welding Technology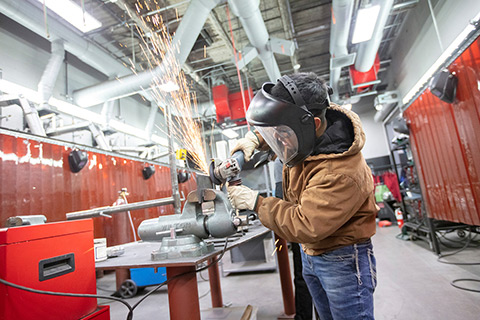 Quick Facts
Welding technology involves melting and binding metals to create products, structures, or machinery.
Explore on This Page
Job Titles & Career Info
Our Program
Why choose Welding Technology?
Enter a high-demand field—we need welders who can help rebuild bridges, highways & buildings as the country's infrastructure ages
Specialize in a manufacturing sector that interests you, for example:

Construction
Machinery
Shipbuilding
Automobile manufacturing
Aerospace projects

Prepare for entry-level jobs in production welding or supervisory positions
Prepare for what you will do at work
Join metal components in flat, vertical, or overhead positions
Buff, grind, cut, or bend edges of pieces you are going to solder to make sure the fit is snug
Examine your work & rework defective or broken parts
Use safe work habits when operating welding equipment
Marketable skills you will learn
Critical thinking
Reasoning
Communication
Personal & social responsibility
Teamwork
Computer literacy
Before you enroll, think about:
On the job as a welder, you:
May work outdoors on scaffolds or indoors in confined areas
May have to move or lift heavy objects
Must follow all safety procedures to protect yourself from the risks of heat, intense light, gases, and fine particles in the air that result from welding
Need a boost to get ready for college?
Talk to your advisor about Developmental Studies if your TSI scores say you need some help in math or reading and writing.
Degrees & Certificates
| | |
| --- | --- |
| NE Northeast Campus | SE Southeast Campus |
| NW Northwest Campus | TR Trinity River Campus |
| SO South Campus | CN TCC Connect Campus |
Degree
Prepares you to work as a welding technician who understands weld inspection processes and who is qualified to enter a supervisory position.
Certificates
Level 1
Prepare you to work in entry-level jobs in production welding.
How Much Time & Money to Finish?
2022–2023 Academic Year
| Degree or Certificate | Program Title | Hours | Total Tuition & Fees |
| --- | --- | --- | --- |
| AAS | Welding Technology | 60 | $3,840 |
| CRT1 | Welding—Basic | 22 | $1,408 |
| CRT1 | Welding—Advanced | 20 | $1,280 |
Notes:
Tuition is based on in-state, in-county rates.
Totals do not include textbooks and other materials.
Non-Credit Programs
Time commitments and fees vary depending on the course.
Earn More Choices & More Money
Transfer to a college or university to continue your studies. Earning a bachelor's degree opens the door to career and promotion opportunities.
Next steps
Start on Your Pathway!
Contact
Updated January 20, 2023