Criminal Justice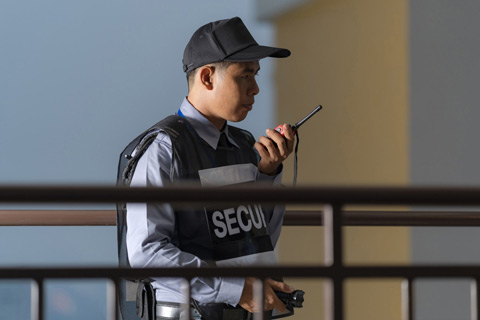 Quick Facts
Criminal justice professionals protect lives and communities.
Explore on This Page
Job Titles & Career Info
Our Program
Why choose Criminal Justice?
Serve your community through the diverse, exciting & rewarding career options law enforcement offers
Earn the 2-year degree more state & local law enforcement agencies now require
Be able to continue your studies by transferring your associate degree credits to a 4-year institution
Choose from a diverse selection of careers
Prepare for what you will do at work
Police officers maintain order and keep their communities safe by enforcing the law and patrolling the communities. They also search for or arrest criminals.
Correctional officers supervise those who have been arrested and are awaiting trial. They also transport prisoners between the courtroom and other secure facilities.
Security guards patrol and monitor premises to prevent crime and infractions of rules. They may also operate metal detectors or other similar equipment.
Marketable skills you will learn
Critical thinking
Reasoning
Communication
Personal & social responsibility
Teamwork
Computer literacy
Before you enroll, think about:
Our Criminal Justice A.A.S. does not result in Texas Commission on Law Enforcement (TCOLE) certification.
Some careers in criminal justice will require education in addition to a 2-year A.A.S.
Law enforcement is a physically and mentally demanding occupation.
Law enforcement requires excellent oral and written communication skills.
3 skills or work style traits that will help you succeed in this field:

Stress tolerance
Perceptiveness
Integrity
Need a boost to get ready for college?
Talk to your advisor about Developmental Studies if your TSI scores say you need some help in math or reading and writing.
Degrees & Certificates
Degree
Occupational Skills Award
Transfer
All Campuses
How Much Time & Money to Finish?
2022–2023 Academic Year
| Degree or Certificate | Program Title | Hours | Total Tuition & Fees |
| --- | --- | --- | --- |
| AAS | Criminal Justice | 60 | $3,840 |
| CRT1 | Basic Peace Officer Certification | 18 | $1,152 |
| OSA | Security Management | 9 | $576 |
| FOS | Criminal Justice | 15 | $960 |
Notes:
Tuition is based on in-state, in-county rates.
Totals do not include textbooks and other materials.
Non-Credit Programs
Time commitments and fees vary depending on the course.
Earn More Choices & More Money
Transfer to a college or university to continue your studies. Earning a bachelor's degree opens the door to promotion opportunities.
For example, you will be ready to work toward:
Bachelor of Arts in Criminal Justice
Bachelor of Arts in Victim Studies
Bachelor of Science in Homeland Security Studies
Next steps
Start on Your Pathway!
Contact
Northwest Campus
Jason Clark-Miller
Program Coordinator
Call 817-515-7570
Northwest Campus
Cade Hart
Career Advisor—Public Services Division
Call 817-515-7289
Email cade.hart@tccd.edu
Please call or email me to make an appointment.
Northwest Campus
Donna Herndon
Administrative Assistant
Call 817-515-7660
Email donna.herndon@tccd.edu
Please call or email me to make an appointment.
Updated January 20, 2023