Central Sterile Processing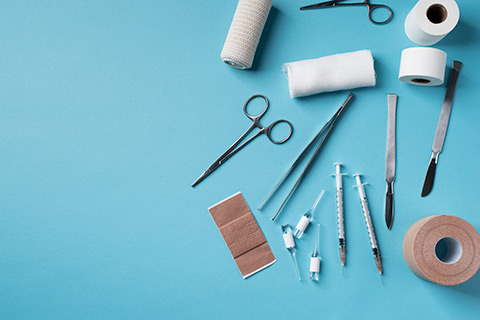 Quick Facts
Central Sterile Processing is a fast-growing health care profession that focuses on cleaning, sterilizing, and preparing medical instruments.
Explore on This Page
COVID-19 Statement
Health Sciences & Nursing Programs
The health and safety of our Tarrant County College District (TCCD) community are responsibilities that we all share.
TCCD does not require the COVID-19 vaccine to access TCCD properties or to participate in campus activities.
Our Clinical Partners
However, TCCD's partners may require vaccination for students enrolled in technical programs that require the fulfillment of onsite practicum/clinical coursework at one of our partnering facilities.
Students in technical programs with a practicum/clinical component may be required by the partnering facility to have the vaccine to complete the practicum/clinical requirement at the partnering facility. Several hospitals require technical program students to be fully immunized against COVID-19 before arrival at the facilities.
As a result, practicum/clinical sites for unvaccinated students may be limited; therefore, graduation may be delayed if students decline clinical/practicum assignments at sites requiring vaccination.
Job Titles & Career Info
Our Program
Why Choose Central Sterile Processing?
Use your attention to detail & accuracy to help keep patients safe by preparing sterile, disinfected health care equipment
Work effectively with both patients & health professionals
Enter a field with a bright job outlook & professional growth possibilities
Prepare for What You Will Do at Work
Check, clean & prepare medical equipment for sterilization
Operate specialized sterilization equipment
Organize & assemble sterilized supplies
Keep records of the items you processed & the cleaning procedures you performed
Marketable Skills You Will Learn
Critical thinking
Reasoning
Communication
Personal & social responsibility
Teamwork
Computer literacy
Before You Enroll, Think About:
Texas Veterans Commission (TVC)-approved
You can use your Veterans Administration (VA) educational benefits to pay for this program.
Questions? See VetSuccess on Campus
Selective Admission
Central Sterile Processing is a selective admission program.
After being accepted to TCC, you must meet the selective admission requirements to be eligible to submit a separate application to our Central Sterile Processing Program.
Get the Details on These Pages:
Need a boost to get ready for college?
Talk to your advisor about Developmental Studies if your TSI scores say you need some help in math or reading and writing.
Degrees & Certificates
Certificate
Level 1
Attend an Information Session
About the Session
Find out everything you need to know about our program: requirements, courses, costs, and more.
Attending an information session is an application requirement. You will submit your Certificate of Attendance with your application.
Until We Can Host In-Person Sessions
Review the presentation slides and contact us if you have any questions: Central Sterile Processing (CSP) Information Session (PDF)Listen
Questions?
Health Care Professions Advising Resource Hub
Kimberlyn Moore-Debrossard, Career Advisor
Call 817-515-1484
Email TR.HealthCareAdvising@tccd.edu
How Much Time & Money to Finish?
2023–2024 Academic Year
| Degree or Certificate | Program Title | Semester Credit Hours | Total Tuition & Fees |
| --- | --- | --- | --- |
| CRT1 | Central Sterile Processing | 16 | $1,104 |
Notes:
Tuition is based on in-state, in-county rates.
Totals do not include textbooks and other materials.
Continuing Education Programs
Time commitments and fees vary depending on the course.
Earn More Choices & More Money
Transfer to a college or university to continue your studies. Earning a bachelor's degree opens the door to career and promotion opportunities.
Next steps
Start on Your Pathway!
Contact
Trinity River Campus
Health Care Professions
Advising Resource Hub
Kimberlyn Moore-Debrossard
Career Advisor
Call 817-515-1484
Email TR.HealthCareAdvising@tccd.edu
Advising by Appointment
Fall & Spring Hours
Monday–Friday: 8 a.m.–5 p.m.
Summer Hours
Monday–Thursday: 7:30 a.m.–6 p.m.
Updated November 13, 2023