Dietary Manager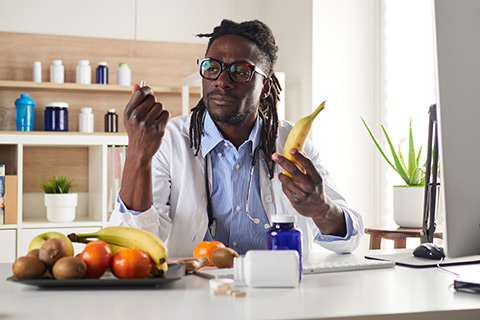 Quick Facts
Dietary managers are responsible for the daily operations of foodservice departments. They ensure food quality, safety standards, and client expectations. (Certifying Board for Dietary Managers: CDM, CFPP Job Description)
Explore on This Page
Job Titles & Career Info
Our Program
Why choose Dietary Manager?
Enter an in-demand career: Long-term care facilities have is an increased need for dietary managers due to a growing aging population
Have the managerial authority to delegate & assign job responsibilities
Benefit from ample opportunities for advancement based on experience & skills
Enjoy choices in your work environment because dietary managers work in a variety of settings, including:

Healthcare
Schools
Military
Corporations

Prepare to sit for the national credentialing examination to obtain the CDM & CFPP credentials
Prepare for what you will do at work
Manage foodservice operations, including ordering, inventory control & budgeting.
Hire, train & evaluate foodservice employees
Implement food safety & sanitation guidelines
Plan & modify menus to meet patient needs
Collaborate with medical professionals to provide patient care
Explore professional organizations
Marketable skills you will learn
Critical thinking
Reasoning
Communication
Personal & social responsibility
Teamwork
Computer literacy
Before you enroll, think about:
Special admission
Dietary Manager is a special admission program.
After being accepted to TCC, you must meet enrollment requirements to be eligible to submit a separate application to the program.
Talk to the program director or the Career & Technical advisor to select courses you need for the program. You are not required to complete Texas core classes for this degree.
Get the details on these pages:
Special requirement—Practicum: supervised practice
Practicum provides supervised practice experience in real life situations. You are required to complete 3 practicum courses, with a minimum of 450 hours.
Learn more about the Practicum
Stackable certificates
You will also able to earn the following certificates as you complete the program requirements.
Want more details?
Have accessibility questions about this handbook? Call the Dietetics Department at 817-515-3051.
Need help paying for this program?
Need a boost to get ready for college?
Talk to your advisor about Developmental Studies if your TSI scores say you need some help in math or reading and writing.
Degrees & Certificates
Certificate
Level 1
Accreditation
Our Dietary Manager Certificate Program is approved by the Association of Nutrition and Foodservice Professionals
How Much Time & Money to Finish?
2022–2023 Academic Year
| Degree or Certificate | Program Title | Hours | Total Tuition & Fees |
| --- | --- | --- | --- |
| CRT1 | Dietary Manager | 21 | $1,344 |
Notes:
Tuition is based on in-state, in-county rates.
Totals do not include textbooks and other materials.
Non-Credit Programs
Time commitments and fees vary depending on the course.
Earn More Choices & More Money
Transfer to a college or university to continue your studies. Earning a bachelor's degree opens the door to promotion opportunities.
For example, you will be ready to work toward:
Bachelor of Science in Nutrition or Dietetics
Bachelor of Science in Healthcare Administration
Bachelor of Applied Science in Hospitality or Culinary Arts
Next steps
Start on Your Pathway!
Contact
Southeast Campus
Christina Liew-Newville, Ed.D., R.D., L.D.
Dietetics Program Coordinator
Dietetic Technician Program Director
Southeast Campus
Denise Blevins, M.S., R.D., L.D.
Dietary Manager Program Coordinator
Email dawn.blevins@tccd.edu
Southeast Campus
Lynda Fox-Arnold, M.S.
Career Advisor
Southeast Campus
Dietetics Program
Call 817-515-3051
Updated January 20, 2023